49inch lcd multi touch screen kiosk stands lcd advertising screens
Please send us inquiry directly, the Advertising Display are customizable.
Main Features:
Wayfinding function combinated with function of Information check, Display messages, advertising, news broadcast.
Three types of Function for option: SAndroid wifi network / Windows wifi network
USB, VGA, HDMI, DVI
Can built in with Infrared touch screen or capacitive touch screen for information checking.
Size: 15" ,17",19" 22",26" 32" 43" 49" 50" 55" 65" 75" 84"
Indoor TFT LCD (Outdoor for option)
Wall mount, Stand floor and Open frame
Built in with camera, printer, scanner, keyboard, card payment.
Optional with 3 types of Configuration:

Configuration Type

Android OS with Cable Network & WIFI network version( Content Management Software is included)

Windows OS WIFI Cable
Network

Unique Function


We offer free-of-charge CMS( Content Management Software), with which you will be able to access to all of
machines with one personal computer via Internet(Cable Network/Wirelss/3G network/4G network/5G network) doing control like upload/delete advertising content, changing schedule,split-screen, monitoring its playing content… even you are in another country! Meanwhile, this software is capable of split-screen, combination of video, image,weather, date, time, news broadcast, webpage, daily/monthly/yearly schedule....

It's powerful as computers
like we daily use, can be with touch function or non-touch. It can achieve all the functions of regular computers

After-Sale Service Term

Warranty
Period
One year of repair coverage
Lifetime complimentary support
Extendable warranty

Certificates

CE

CE /RoHS/CB/GS/SAA/SASO/UL/FCC/SGS

Packaging Recyclability

All Packing material are recyclable

Main Specification

Display Size

15" ,17",19" 22",26" 32" 43" 49" 50" 55" 65" 75" 84"

Packing
Material

Veneer Wooden Box( Flight case is optional)

Power Comsuption

20W~80W

Power
upply
Wide range power input : 110-240V/50HZ/60HZ
workable in every country all around the world

Enclosure Material

High-strength fully High-temperred Glass,Coat Painting Strong Steel

Operating temperature

0 ~ 50ºC

Mainboard Specification

Mainboard


Gold-coating 10-layer Industrial High Class Micro ATX Form Factor;
All Solid Capacitor design ;High Density Glass Fabric PCB


Operating System

Android OS 5.1/6.0/7.0 with Google Playstore

Windows 8.1/10

CPU

Android version: Quad-core/Octa-core

Windows version: i3/i5/i7/J1900

GPU

Android version: GPU: Mali-T764 GPU,
supporting 4K resolution
Windows version: Integrated
in CPU HD4600

RAM

Android version: 2G/4G/8G/16G for option

Windows version:DDR3/DDR4 2G/4G/8G/16G for option

Storage

Android version: 8G/16G/32G/64G for option

Windows version:SSD 32G/64G/128G/562G/1TB
for option

Cable Network Connectivity

YES

YES

WIFI connectivity

YES

YES

3G/4G/5G Network Connectivity

Optional

Optional

Bluetooth

Optional

Optional

In/Out Interface

Android Version: 1xUSB 3.0 , copy speed reach to 16M/S;1xHDMI ; 1xRJ45 Cable Network port ; TF PostCard Slot

Windows version:2xUSB3.0, 2xUSB2.0,1xHDMI,1xRJ45
Cable Network Port,1xVGA,
Audio output, Microphone input

Speaker Power

2×8W (8Ω)

2×8W (8Ω)

Video Format

MP4(AVI:DIVX/XVID),MPG2(DVD: VOB/MPG2),MPEG1(VCD:DAT/MPG1),WMV,MP3,MPG,TRP,TP,M2TS,TS,RM,RMVB,
MKV,DIVX,ASF,FLV,...etc. support all of the format of video

Audio Format

MP3..etc. all of the format of audio

Image Format

JPG,JPEG,BMP,PNG,GIF...etc, support all of the format of image

Operating System Language

English/Русский/France/Español/Italian/Português/Japanese/Korean/Hebrew...
any all other language

Touch Screen Specification (Touch Screen is optional)

Touch Point

SoftTouch sensitive Real 10 points Mult-touch

Touch Type

IR touch or Capacitive touch

Touch Sensibility:

<3~5mm

Response Time

<2ms

Scanning Rate

50 scans/s

Available object size for touch

<2mm

Transparency of Tempered protecting glass

>95%

Durability of Touch

No limited

Surface hardness of Touch screen

Mohs 7th level ,and bearable with the hit of 6kg weight of metal ball

Display Specification

Display Brand

LG / SAMSUNG Original A+Grade OLED(Organic Light-Emitting Diode Display),
without any light spot or black spot and Full Viewing Angle

Max Resolution

FULL HD 1920×1080/ Ultra-HD 3840*2160 is optional

Display color

16.7 Millinium

Brightness (nits)

600cd/m2

Contrast

1500:1

Visual angle

Full View 180 degreee

Response time

3~5ms

Life(hrs)

>70,000(hrs)

Accessories

Accessories

Qty

1.User Manual

1

1

2.Warranty Card

1

1

3.Power Cord

1

1

4.Remote Controller

1

N/A

5.Security Door Key

1

6.WIFI antenna

2

2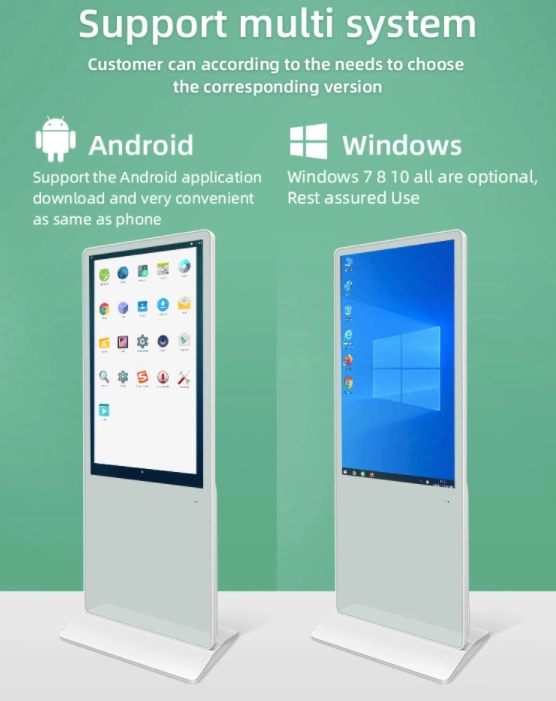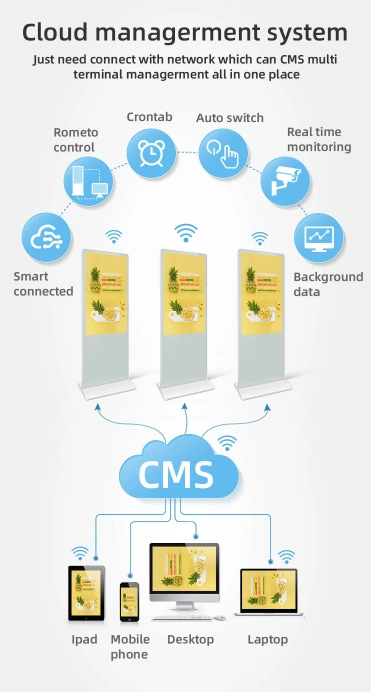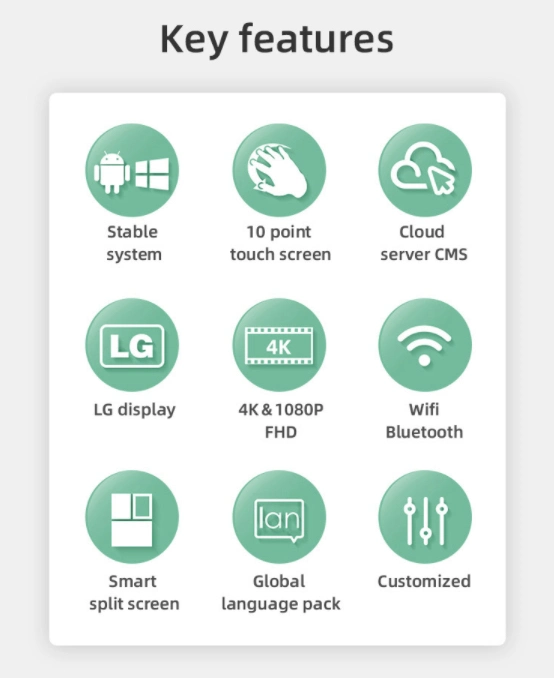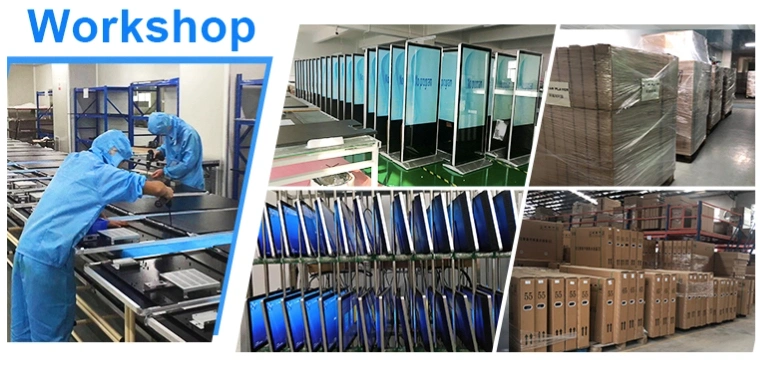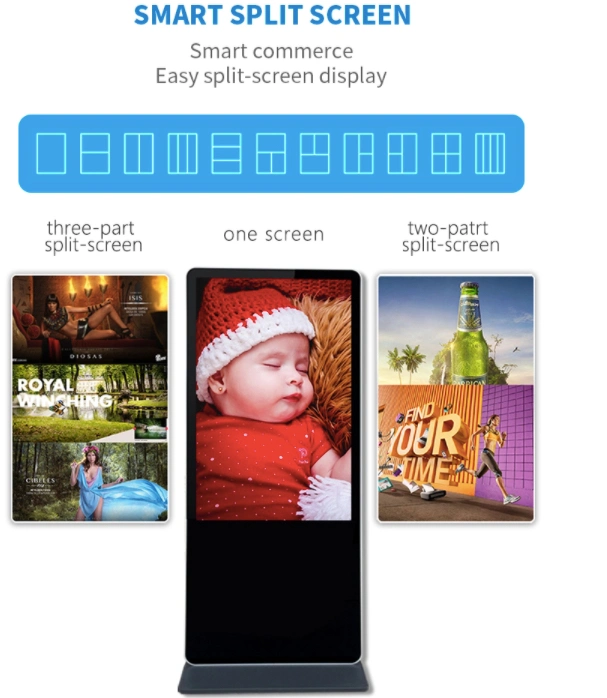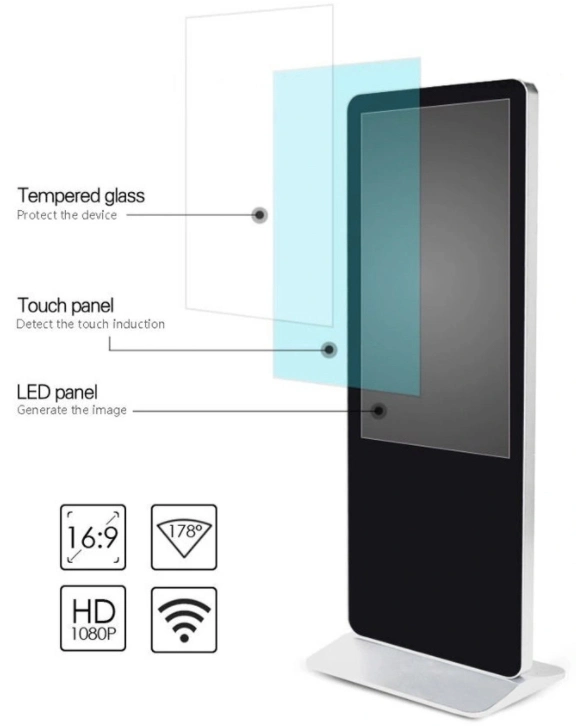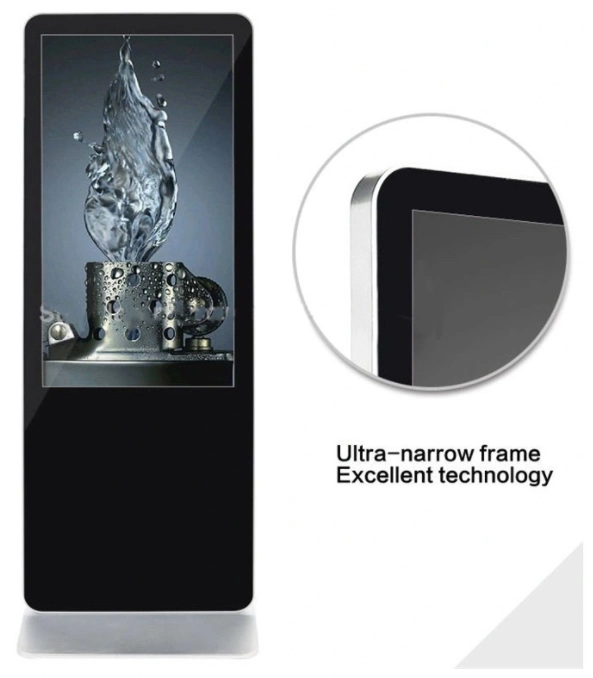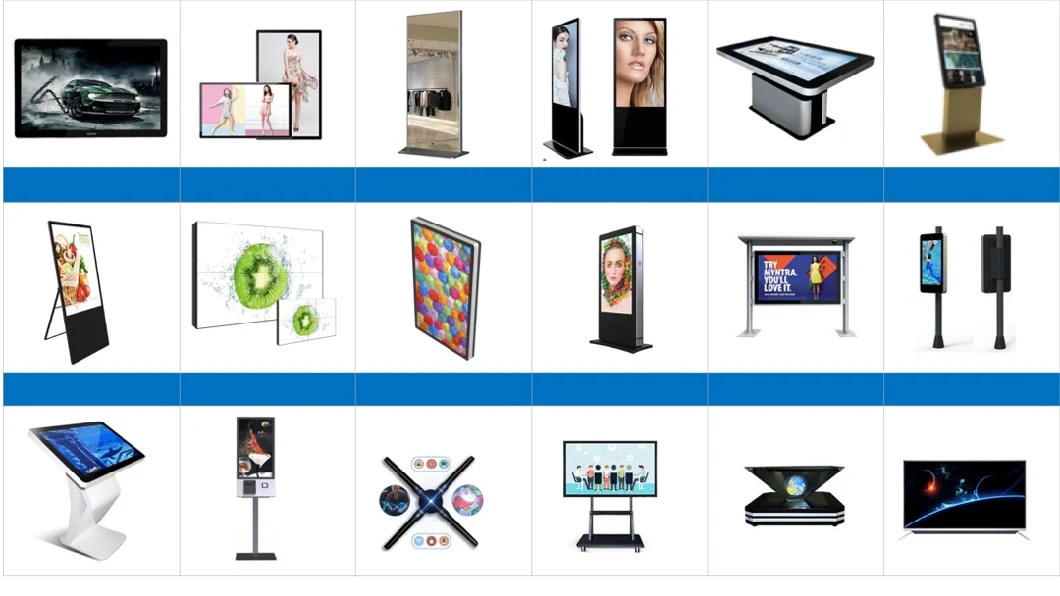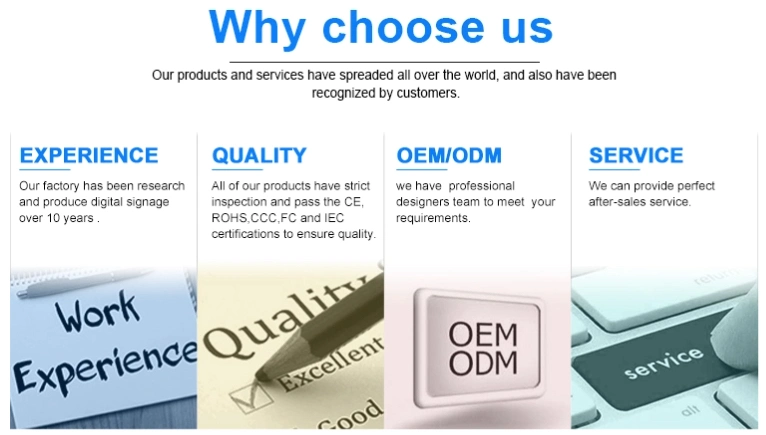 Description:
1, Adopt newest LG / SAMSUNG A+ Grade TFT-LCD screen,with high contrast ration,high brightness,last longer and work better.
2 Adopt High-Strength Aluminium Alloy, Hardened Coat Painting Metal, 6mm thickness Anti-Vanal High Tempered Glass,antistatic,preventing
3, With 6mm thickness tempered glass as protection layer against the surface of LCD screen.
4, Support SD card or USB port at one player; it is optional for VGA Port, S-video port and HDMI port.Compatible all formats of high definition video signal and standard definition video signal input(HDMI,YPbPr,VGA,CVBS*2)and output(AV).
5, Safely locking system function to avoid flash memory card and advertising playing contents being taken away, also can be protected by password.
6, With USB update feature; support functions between the card and card copying files (such as CF card to SD card,or SD to CF card etc.); support U-copy, conveniently and quickly updating target content, more details please refer to user manual.
7, Playing advertising program automatically and circular; support media format: JPEG (JPG), MP3, AVI, MPEG1, MPEG2, MPEG4, VOB and DIVX (5.0/6.0).
8, Playlists support functions, can set different folders, copy all target files to those different folders, system would default to play your target file one by one.
9, Capable of setting rolling caption on the screen, playing rolling caption in the advertisement program.
10, Build-in clock and calendar function in the system of player.
11, Automatically turn up or down the volume of ad media player after finished the period of time setup to machine according to your requirements.Support 5 groups of auto power-on/off timer, able to set those 5 groups of time one day and 7 days in one week.
12, Support 1080P Full HD Video and picture.
13, with scrolling marquee and angle icon display for any interval and segment quantity.
14, Automatic restart and shutdown periodically.
15, Support playlist function and slides showing automatically.
Applications:
Financial Organizations : Banks, negotiable securities, funds, insurance companies, pawnshops;Non-profit Organizations: Telecommunications, post offices, hospital, schools;
Public Places: subway, airports, stations, gas stations, toll stations, bookstores, parks, exhibition halls, stadiums, museums, convention centers, ticket agencies, HR market, lottery centers; Real Estate Property: Apartments, villas, offices, commercial buildings, model rooms, property brokers;
Entertainments : Theaters, fitness halls, country clubs, clubs, massage rooms, bars, cafes, Internet bars, beauty shops, golf course
Business Organizations : supermarket, large-scale shopping malls, exclusive agency, chain shops, large-scale sales, star-rated hotels, restaurants, travel agencies, pharmacy.
TopGood Company info
Shenzhen TopGood Intelligent Technology Co., Ltd, (TopGood) is a professional kiosk manufacturer, which focuses on the design and production of self-service terminals, also called interactive kiosks, like payment kiosk, information kiosk, SIM card vending kiosk, ATM/VTM, wayfinding kiosk, self-ordering kiosk, new card issue kiosk, Currency Exchange Machine, and Digital Signage, etc.
Established in 2014 by a team with more than 10-year experience in designing, developing, and producing of the self-service terminals. TopGood IT is aiming to supply the WORRY FREE Interactive Kiosks and Digital Signage for our worldwide customers.
TopGood is proud to cooperate with the worldwide famous self-service terminals hardware components companies, like LG, MEI, CashCode, GRG, Custom, ELO, Creator, Gigabyte, Microsoft, etc., which are the base to ensure the kiosks are with high quality and stable performance. TopGood already gets a good reputation from our customers for our reliable quality and service.
OEM or ODM services are also available to customize the kiosks to meet a certain market.
Besides the full self-service terminals, we also supply kiosk parts, like kiosk cabinet/kiosk enclosure, industrial computer, touch screen, and design of kiosks.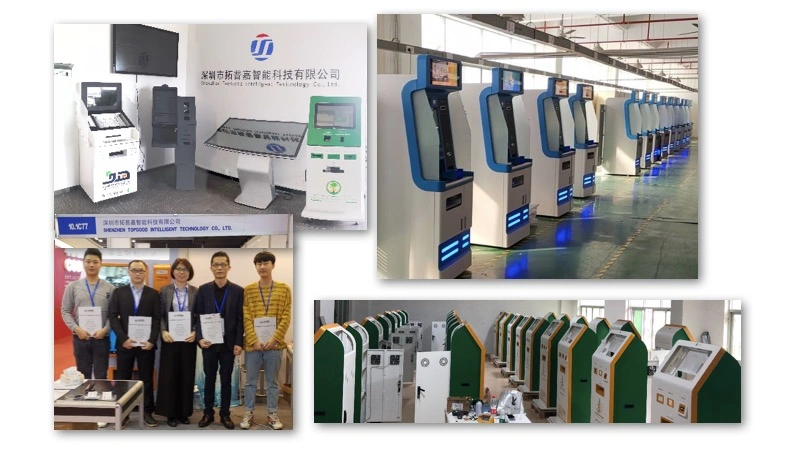 FAQ
Q1: Can I customize the product I ordered?
A1: Absolutely yes.

Q2: Where is your factory located? How can I visit there?
A2: Our factory locates in Shenzhen. Let us know your visiting schedule in advance, we will arrange it.

Q3: How long is the warranty time for your products?
A3: Warranty is one year; also we can extend the warranty with further negotiation.

Q4: What payment method do you accept?
A4: T/T(Bank transfer), Western Union, L/C, etc.

Q5: Can you put my brand name (logo) on these products?
A5: Yes, we accept OEM service, not only your logo but also color, package, etc. We satisfy every request from our customer as long as we can do.

Q6: What is your after-sale service?
A6: We offer a 100% guarantee on our product.
.
Q7: How long is the production time
A7: The self service kiosk production time is 30-35 working days after we received the payment.
The Advertising displays are usually shipped within 7 working days.

Q8: What are the steps for an order?
A8: Step1: We agree on the kiosk configuration, sign PI or PO for both parties
Step2: You arrange payment and we confirm payment receiving.
Step3: We start to make kiosk drawing and send to you for approval.
Step4: Continue with production drawing making after getting kiosk drawing approval.
Step5: Start the kiosk enclosure production and components collecting.
Step6: Components and enclosure assembly test.
Step7: Enclosure powder coating.
Step8: Assembly and test.
Step9: Balance payment confirmed.
Step10: Shipping.