THE INDUSTRY LEADING CHINESE MANUFACTURER
LED TRAFFIC SIGNS ROAD SAFETY DISPLAY
Optraffic
Cost Effective Outdoor LED Display, LED Traffic Signs, Road Safety Display
are made to the highest quality standards in our ISO9001 certified manufacturing facility, comply to MUTCD, designed with full consideration of outdoor usage. OPT P10 P16 P20 P25 LED Moving Message Display Varaible Message Signs Led Digital Information Display adopts industrial standard, super high brightness design, and provides precious information for drivers of road and weather condition.
OPT
Traffic Control Outdoor Mobile LED Digital Display Panel Traffic Message Sign Board
are widely used on highway roads and roadside traffic managements, equipped with intelligent control system, which enables automatic road information process and auto dimming system. This realizes unmanned operation
Yes, we can customize upon your request.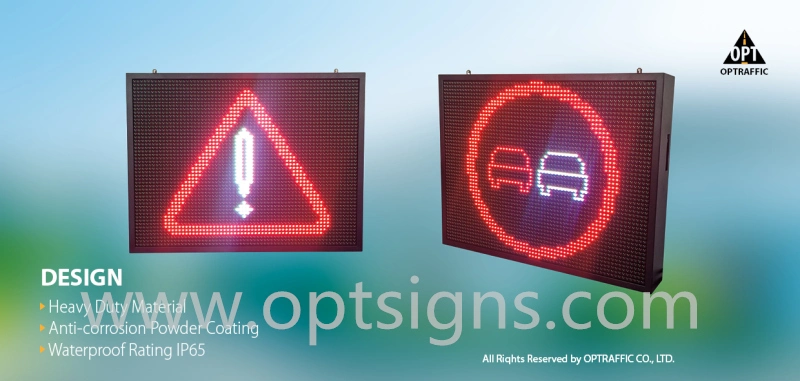 Optraffic Outdoor Fixed Advertising / Highway / Motorway LED Display Parameters
Item
LED Configuration
Module Size
Module Resolution
Driving Method
Refresh Rate
Average Consumption
LED Resource
Control
Use
P8
RGB or Upon Request
320mm*320mm
40*40
1/4 Scan
1920
343W/SQM
SMD
Remote or Local
Outdoor
P10
RGB or Upon Request
320mm*320mm
32*32
1/4 Scan
1920
343W/SQM
SMD/DIP
Remote or Local
Outdoor
P16
RGB or Upon Request
320mm*320mm
20*20
Static
8000
250W/SQM
SMD/DIP
Remote or Local
Outdoor
P20
RGB or Upon Request
320mm*320mm
16*16
Static
8000
200W/SQM
DIP
Remote or Local
Outdoor
P25
RGB or Upon Request
400mm*200mm
16*8
Static
8000
40W/SQM
DIP
Remote or Local
Outdoor
P30
1/5 Colour
455mm*113mm
8*4
Static
8000
30W/SQM
DIP
Remote or Local
Outdoor
P40
1/5 Colour
365mm*182mm
8*4
Static
8000
15W/SQM
DIP
Remote or Local
Outdoor
More
Upon Your Request
PLEASE INQUIRE WITH US FOR BEST SOLUTIONS
Remote or Local
Outdoor

Optraffic has wide range of LED pitch, Color Options, Cabinet Designs for you, please inquire!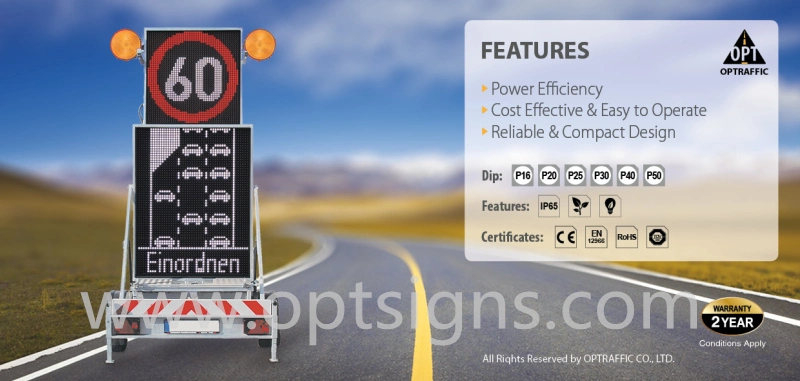 OPTRAFFIC VMS FEATURES
System & Operation
Machinery & Structure
Maintenance & Warranty
-Amber, dual or full color full-matrix display shows text & graphics.
-Full remote control
-Light Sensor (Auto dimming system)
-Multi frames available
-Multi Font size and color avaible
-Low power dissipation
-Energy-efficient operation
-High-visibility LEDs
-Compact steel cabinet design & UV-resistant powder coating finish
-Cooling fans prevent overheating
-2 years Quality Warranty
-Easy maintenance access of Front, Rear, or Screw-off designs
-Easy wiring diagram for comprehensive maintenance understanding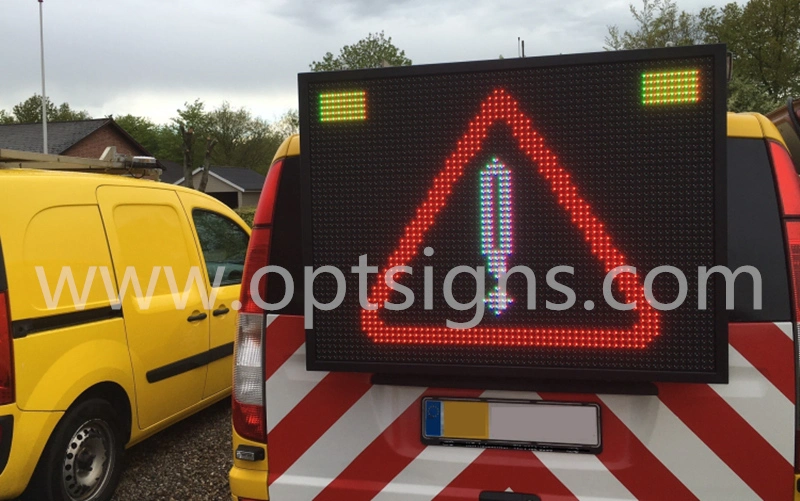 OPTRAFFIC LED DISPLAY SOFTWARE
OPT has developed variety Software Systems for your option. Our standard 3G Remote Control, Local On-site Programming via ethernet and Wi-Fi connection can provide you easy control and monitoring choice. What's more, we had been keeping our innovation and creativity since the establish of our company, and now we had explored in the mobile phone Apps, and had made Android Apps and IOS Apps to provide the most convenient solution to our estimated clients.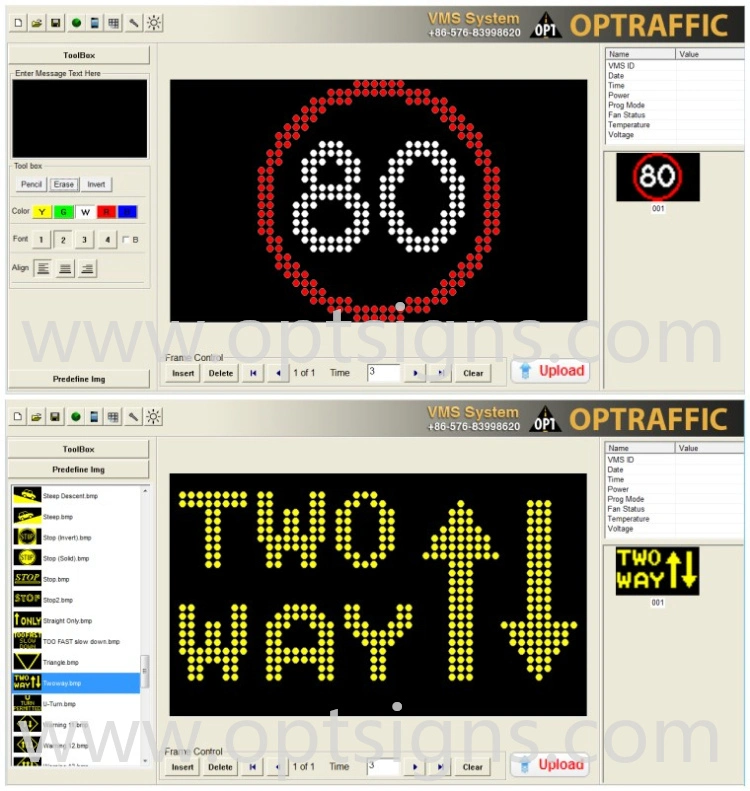 OPTRAFFIC EXHIBITION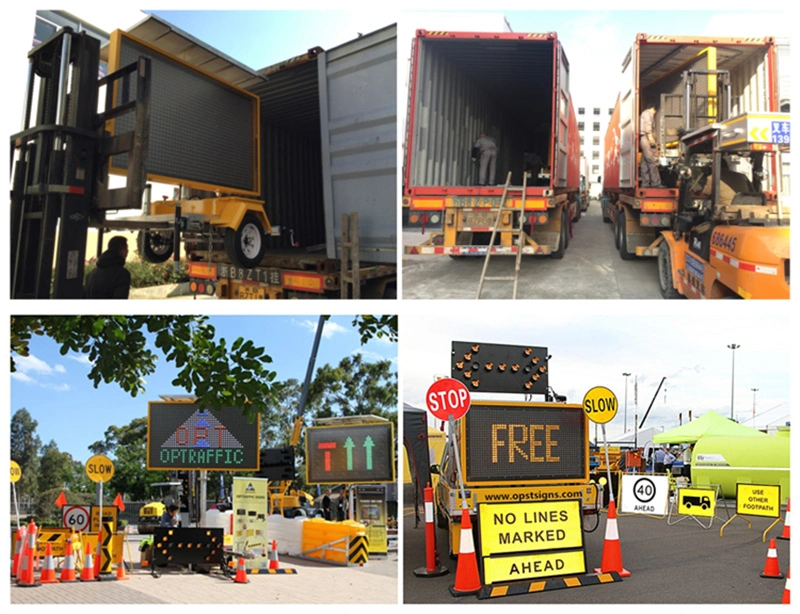 OPT
outdoor Led Moving Message Display Sign board
is manufactured with heavy duty material, anti-corrosion powder coating finish and waterproof IP65. It is your best choice for highway, speedway, motorway, and/or roadside information LED display system. And
Optraffic has been attending many Industry Exhibitions being held in USA, CA, UAE, EU and Pacific Area, and we're enjoying a good reputation of our Most Up-to-date Products.
OPTRAFFIC CERTIFICATES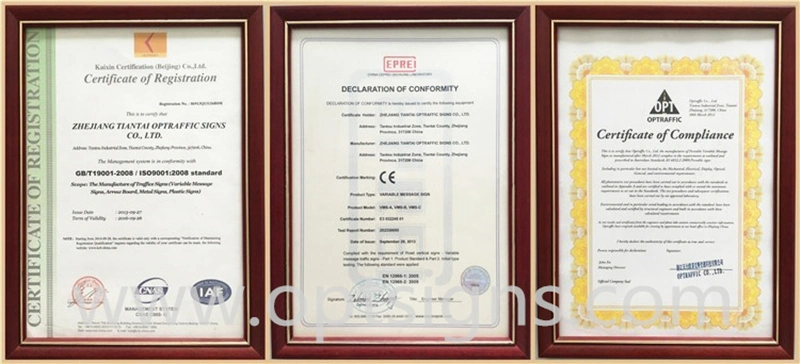 With the Team of Optraffic engineers' hardworking, we had achieved many success in certificates including the ISO9001:2008 QC system, CE EN12966 and the AS standards.