P3mm Outdoor LED Display LED Cabinet Configuration
Die-Casting Aluminum Material Frame
Meanwell Power Supply
Nova & Colourlight Receiving Card*
Pure Copper Wire Cables
*P3mm Outdoor LED Display LED Panel Pic. 01*
P3mm Outdoor LED Display Description
Silu`s P3mm Outdoor LED Display Ultra High-Definition LED Screen Video Wall is a member of our renowned small pixel pitch family, designed with a narrow pixel pitch only 3.0mm, advanced COB LED Technology, featuring a slim and seamless design, the P3mm Outdoor LED Video Wall Screen can easily be integrated with the most challenging setups.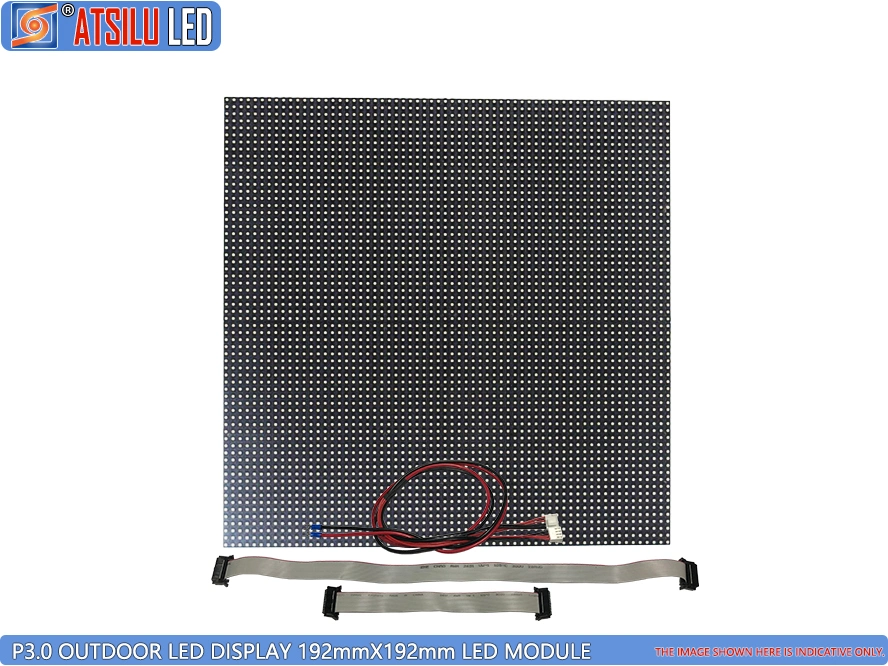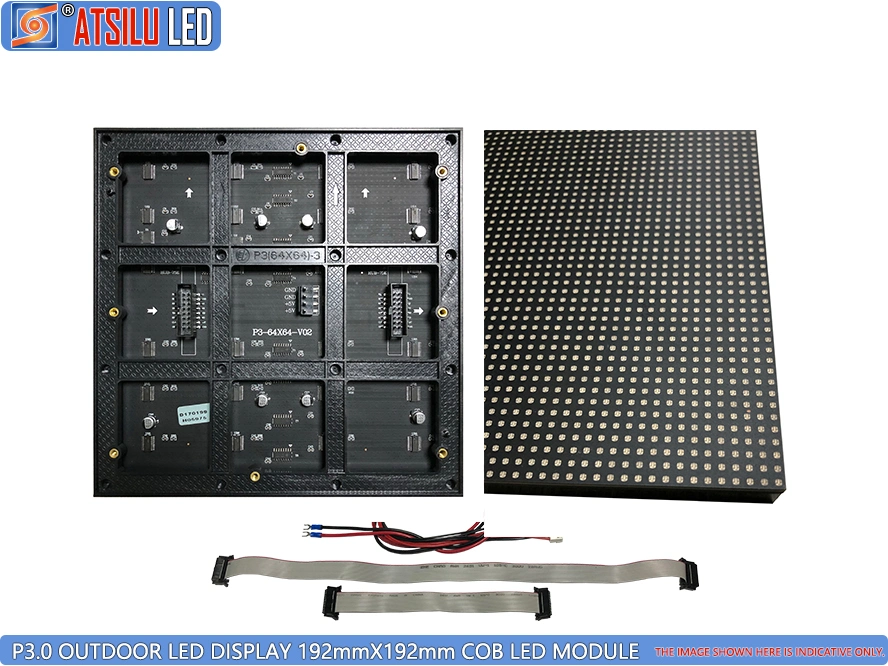 Silu`s LED video displays, provide the ultimate in flexibility thanks to unlimited content options as well as displays of any shape or size. Designed for unrivalled reliability, the product features completely sealed inputs and outputs as well as an enclosed module rear to prevent damage to the module itself. An advanced louvre design masks display seams between modules, resulting in deeper and sharper images that are only available from the leader in LED video.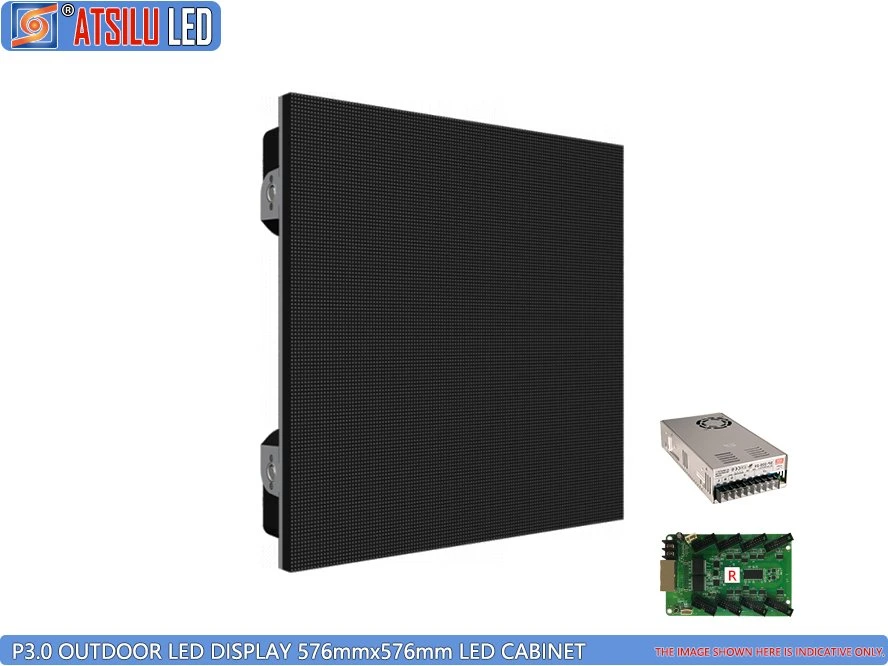 Advanced COB Technology Glue Cover Protection
COB (Chips on Board), is a new technology of LED packaging for the LED light engine. Multi LED lamps are packaged together in a PCB as one lighting LED module. When it lights up, it looks like a whole lighting panel.
High Colour Fidelity
All LED Lamps used in our displays are carefully screened to ensure compliance with our proprietary RGB wavelengths and stringent quality standard. This unique selection method during the manufacturing process ensures colour uniformity and consistency by default, setting the standard in high performance LED Displays.
Using 16-Bit signal processing, the P3mm Outdoor UHD LED Display system is able to produce 65536 shades of red, 65536 shades of blue and 65536 shades of green. (256x256=65536), resulting in a display that has the ability to reproduce an astonishing 281 Trillion colours. (65536x65536x65536=281474976710656).
Ultimate Image Quality
The versatile P3mm Outdoor UHD LED display offers high-quality scaling, an unlimited pixel count (through the stacking of multiple processors), auto redundancy and 16-bit processing per colour. Its hermetically sealed and fanless design guarantees crisp images at all times.
Ultra HD Exclusive Visual Feast
High resolution brings a delicate display effect, and it is a perfect embodiment of the new generation of ultra-high-definition LED display technology. Pixel pitch is 3.0mm and the minimum viewing distance is about 3.0m only.
High Brightness with High Gray Level Great Display Performance
Adopt high-quality LED blackbody SMD lamp with a black mask, the brightness is more than 5,500 nits (can set up to 8,000 nits if needed) and the contrast ratio is up to 4000: 1, and the picture is clearer and more vivid.
Widest Viewing Angle
When an LED Display is viewed off Axis, vertically or horizontally, the viewing angle becomes an important factor to consider. As the viewpoint moves to an acute angle in relation to the screen, the brightness and colour may become compromised. The point where the brightness drops to 50% of the on-axis brightness, or when the colour begins to shift, determines the maximum viewing angle. Silu`s LED Display products are designed to maximize viewing angles and reduce colour shift, ensuring the best off-axis viewing experience.
P3mm Outdoor LED Display Specification
P3mm UHD Outdoor LED Display

Pixel Pitch

3.0mm

LED Brand

Epistar or Cree or Nichia

Pixel Configuration

1R1G1B

Pixel Density

111,111 Pixels/m²

LED Module

192mm x 192mm (7.6" x 7.6")

64 pixels x 64 pixels

LED Cabinet

576mm x 576mm (22.7"x22.7") or 960mm x 960mm (37.8"x37.8")

(192 pixels x 192 pixels or 320 pixels X 320 pixels)

Material: Steel or Aluminum

Steel: < 15Kg or 47Kg (< 33 Lbs or 103 Lbs)

Aluminum: < 11Kg or 36Kg (< 24 Lbs or 79 Lbs )

Working Voltage

AC220V±10%; AC110V±10%

Power Consumption

Average 540W/m² / Max 905W/m²

Maximum Brightness

> 5,500 cd/m²

Refresh Frequency

> 3840Hz/S

Change Frame Frequency

60Hz~ >60Hz

Drive Mode

1/16 Scanning

Total Colors

281 Trillion Colors

Grade Level

RGB 4096 Grade

Best Viewing Distance

3m~>100m (9.8ft~>328ft)

Best Viewing Angle

Horizontally 160° / Vertically 140°

Screen Lifetime

> 100,000 hours

Protection Level

Front IP65 / Rear IP54

Control System ¹

Simple LED Video Control System or Advanced LED Video Processor

Ambient Temperature

-40°C ~ 60°C (-30°F ~ 150°F)

Relative Humidity

10%~90%

Input Signal

RF S-Video RGB RGBHV YUVYC etc.

Brightness Adjustment

256 levels of each colour (RGB) can be adjusted manually and 8 levels of each colour can be adjusted automatically. Optional control system: 256 levels of each colour can be adjusted 100% automatically. (8bit / 16bit / 18bit / 24bit)

Package Material

Wooden Case / Flight Case

Warranty ³

3 Years (5 Years for Cree and Nichia)
WIFI/LAN/WAN/3G/WIMAX control system is available upon request.
The intelligent multifunctional card is available with an automatic brightness sensor to save energy including an outside temperature sensor.
Three years warranty extension program available for UHD P3mm Outdoor LED Display.