10.0mm pixel pitch LED display, 6,500nits+ brightness, 1920Hz+ refresh rate, popular sell outdoor advertisement LED video screen
Outdoor Advertisement LED video screen
Features a rugged reliability cabinet design
Outdoor high-quality SMD3535 LED lamp
Designed for fixed outdoor installation
24*7 hours performance
Silu`s P10mm Outdoor LED Display is rugged, IP65+ rated waterproof and dustproof solution that deliver high-resolution images with unequalled brightness and contrast levels. This 10mm pixel pitch full colour LED display generates the perfect picture at all times, even in direct sunlight. The best and minimum viewing distance of this P10mm outdoor advertisement LED display is 10 meters.
With the features of long visibility, attractive looking, stability operate and install, Silu`s P10mm outdoor LED video screen has been widely used in traffic road, supermarket, sport-games stadium, School and parks etc. to inform message and graphics.
P10mm Outdoor LED Display LED Module Configuration
Famous Nationstar/Cree*/Nicha* SMD3535 LED Lamps
2 Layers 1.6mm Thickness Class-A PCB
MBI5124 Performance Driving ICs
Private Double Backups Signal and Power Connectors
Front and Back Access Service Possibility*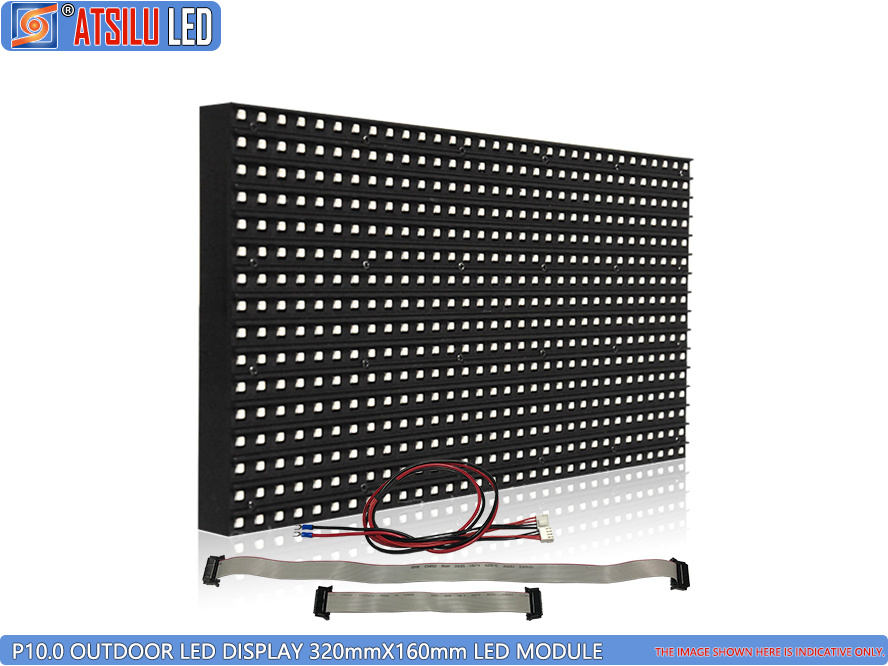 *P10mm Outdoor LED Display LED Module Pic. 01*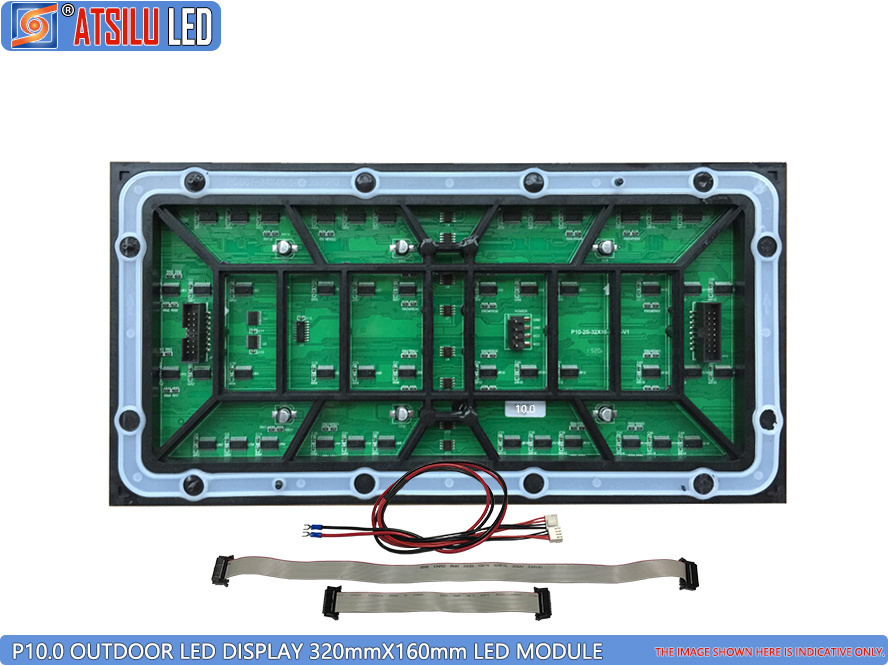 *P10mm Outdoor LED Display LED Module Pic. 02*
P10mm Outdoor LED Display LED Cabinet Configuration
Steel or Aluminum Material LED Cabinet
960mmx960mm Standard Panel Size
Meanwell 5V60A Power Supply
Nova or Colorlight Receiving Card* (Option)
Pure Copper Wire Cables
IP65/IP67 Grade Waterproof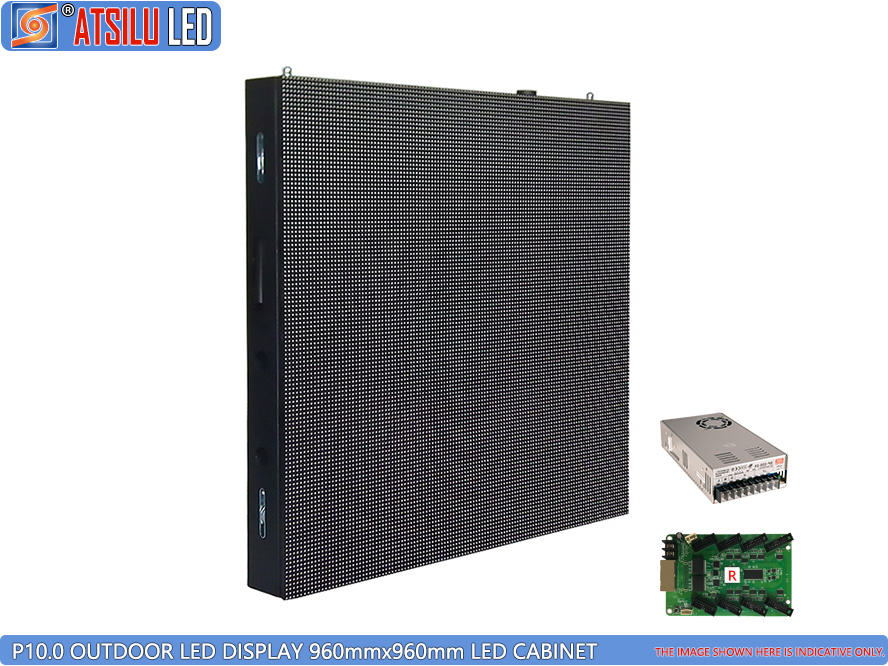 *P10mm Outdoor LED Display LED Cabinet Pic. 01*
P10mm Outdoor LED Display Description
Silu`s P10mm Outdoor LED Display comes in a rugged and reliable waterproof LED cabinet with a shared power supply and controller and only four alignment points. In this way, it offers more flexibility and significantly shortens installation and alignment time, and dramatically reduces weight. Thanks to it's signal and power double backups functions, IP65+ rating, and outdoor SMD technology, the P10mm outdoor LED display is designed for fixed installation in 24*7 outdoor branding and advertising.
High-Quality SMD3535 LED Lamps
Silu chooses the high reliable and high contrast Nationstar-brand LED lamps to ensure the P10mm outdoor LED display excellent performance, wide view angle and good consistency which meet the needs of high-brightness, 1920+ Hz refresh rate, 65536 levels grayscale and display keeping natural colour at one time with best colour uniformity and fidelity.
Unique Cost-Reducing Design
The Silu`s P10mm outdoor LED display`s unique design eliminates the need for a custom-calibrated secondary steel structure which is required for conventional tile-based LED screens. Built on self-supporting and scalable cabinets, it is directly fastened onto the main attachment points, which significantly cuts the cost of installation and the steel structure.
Easy Install
A limited set of components allows you to build modular cabinets of the size 960mmx960mm of up to 3x6 LED modules, with each cabinet measuring less than 130mm in depth and fully made of steel or aluminium, the high performance P10mm outdoor LED display can be installed to any of building exterior wall and single or double upright columns and cables can easily be accessed from the side of LED cabinet as well as the built-in without exposed type.
Well-Known Meanwell Brand Power Supply
All series outdoor fixed installation LED display is adopting Meanwell power supply, electro-optic conversion ratio up to 82%, low heat dissipation and long life span.
Revolutionary Processing
As well as next to offering outstanding image quality, Silu`s P10mm outdoor advertisement LED Display also comes with the revolutionary image processing platform. It excels in pixel bandwidth performance and combines this with fully cloud-based monitoring, control and automated diagnostics.
Other Key Benefits
Excellent image quality, wide viewing angles
Lowest weight in its class
Minimum installation costs
No precision supporting steel required
Ultimate reliability
Easy front AND back access*
Advanced web-based setup, monitoring and control
IP65 Grade and Waterproof Cabinet Design (up to IP67)
The unique waterproof design is highly dustproof and waterproof and also it is able to be directly installed on outdoor occasions. The special design structure of P10mm outdoor LED display is exterior with IP65/IP67 grade and the cabinets are moisture and corrosion-proof to work in all weather conditions.
SMD outdoor P10mm LED Display is widely used at Airport, Station, Roadside, Shopping Mall centre as a high-efficiency advertising and promotion way.
P10mm Outdoor LED Display Specification
P10mm Outdoor Advertisement LED Video Display

Pixel Pitch

10.0mm

LED Brand

Epistar or Cree* or Nichia*

Pixel Configuration

1R1G1B

Pixel Density

10,000 Pixels/m²

LED Module

320mm x 160mm (12.6" x 6.3")

32 pixels x 16 pixels

LED Cabinet

640mm x 640mm (25.2"x25.2") or 960mm x 960mm (37.8"x37.8")

(64 pixels x 64 pixels or 96 pixels x 96 pixels)

Material: Steel or Aluminum

Steel: < 28Kg or 45Kg (< 61.6 Lbs or 99 Lbs)

Aluminum: < 21Kg or 36Kg (< 46.2 Lbs or 79.2 Lbs )

Working Voltage

AC220V±10%; AC110V±10%

Power Consumption

Average 456W/m² / Max 960W/m²

Maximum Brightness

> 6,500 (10,000+) cd/m²

Refresh Frequency

> 1920Hz/S

Change Frame Frequency

60Hz~ >60Hz

Drive Mode

1/2 Scanning

Total Colors

281 Trillion Colors

Grade Level

RGB 65536 Grade

Best Viewing Distance

10m~>500m (32ft~>1600ft)

Best Viewing Angle

Horizontally 140° / Vertically 120°

Screen Lifetime

> 100,000 hours

Protection Level

Front IP65 / Rear IP54

Control System ¹

Simple LED Video Control System or Advanced LED Video Processor

Ambient Temperature

-40°C ~ 60°C (-30°F ~ 150°F)

Relative Humidity

10%~90%

Input Signal

RF S-Video RGB RGBHV YUVYC etc.

Brightness Adjustment

256 levels of each colour (RGB) can be adjusted manually and 8 levels of each colour can be adjusted automatically. Optional control system: 256 levels of each colour can be adjusted 100% automatically. (8bit / 16bit / 18bit / 24bit)

Package Material

Wooden Case / Flight Case

Warranty ³

3 Years (5 Years for Cree and Nichia)
WIFI/LAN/WAN/3G/WIMAX control system is available upon request.
The intelligent multifunctional card is available with an automatic brightness sensor to save energy including an outside temperature sensor.
Three years warranty extension program available for 10mm pixel pitch full-colour P10mm Outdoor LED Display.