4.81mm pixel pitch LED display, 1,100nits+ brightness, 3840Hz+ refresh rate, curved LED panel
Indoor LED screen wall
Lightweight and reliability aluminium LED panel
Famous brand SMD LED lamp
Designed for fixed and rental indoor installation
Silu`s P4.8mm Indoor LED Display is a member of our indoor standard modular design series for rental or fixed applications, it is a type of 4.81mm pixel pitch HD LED wall with the high contrast ratio, superior colour fidelity and uniformity.
The P4.8mm indoor LED video board display is assembling with 2x2 250mmx250mm size LED modules and the universal and popular standard 500mmx500mm or 500mmx1000mm size die-casting aluminium LED panel, it has become a kind of popular and best-selling rental LED display from the past 2 years.
Our P4.8mm full-colour LED screen video wall display is available in several different pixel pitches, which is used extensively suitable for indoor stage, TV studio, concerts, exhibitions and other occasions, and the panel or cabinet of this 4.81mm LED display is also has a +/- 15-degree angle adjustment lock, so that`s why we say the P4.8mm indoor curved LED panel display can suit all of the indoor applications.
P4.8mm Indoor LED Display LED Module Configuration
Famous Nationstar/Cree*/Nicha* SMD LED Lamps
2 Layers 1.6mm Thickness Class-A PCB
MBI5153*/CH2153 High Refresh Driving ICs
Standard 250mmx250mm LED Module
Front and Back Access Service Possibility*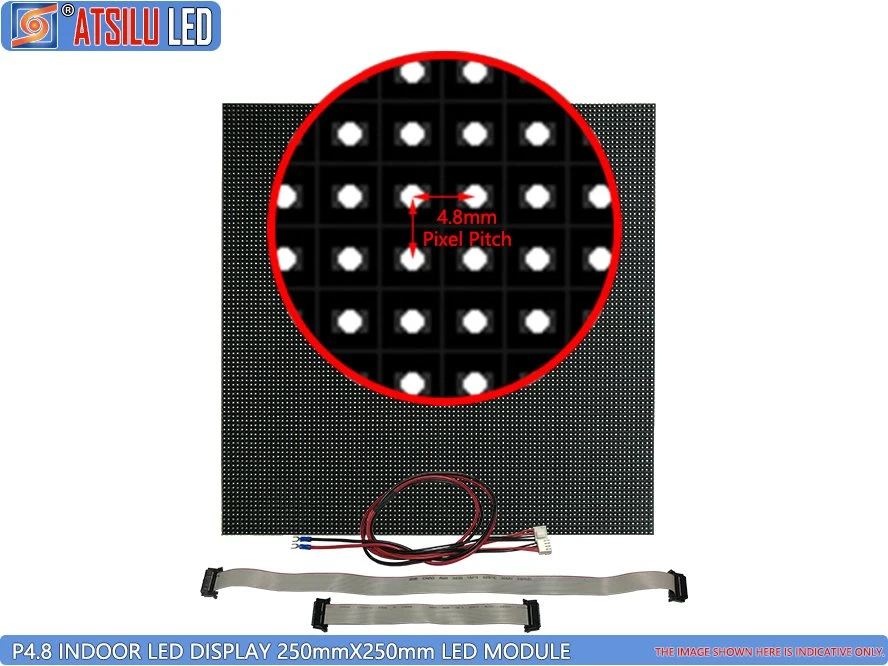 *P4.8mm Indoor LED Display LED Module Pic. 01*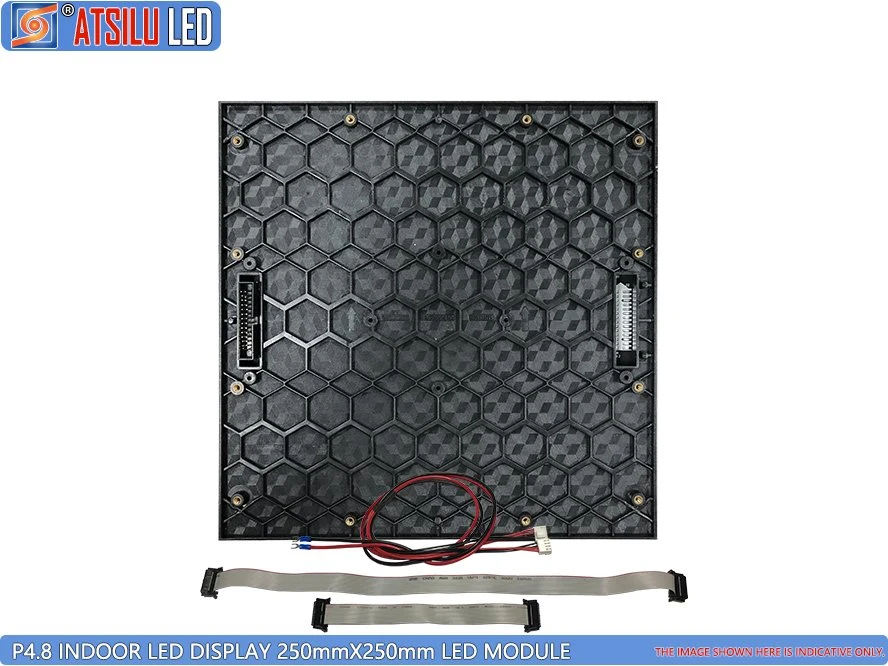 *P4.8mm Indoor LED Display LED Module Pic. 02*
P4.8mm Indoor LED Display LED Cabinet Configuration
Steel or Aluminum Material LED Screen Cabinet/LED Panel
500mmx500mm or 500mmx1000mm LED Cabinet/Panel Size
Meanwell Brand 5V40A Power Supply
Nova or Colorlight Receiving Card* (Option)
Pure Copper Wire Cables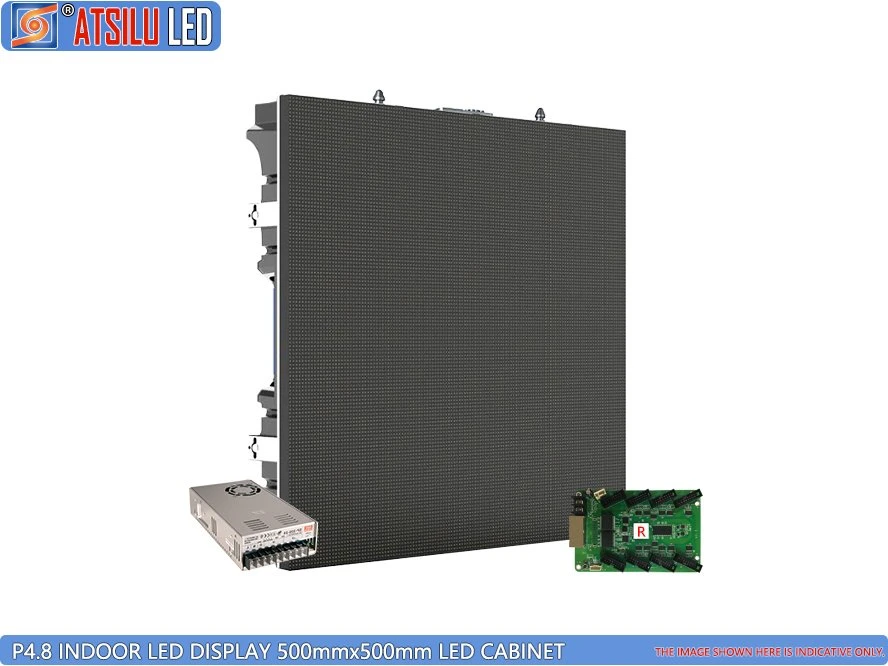 *P4.8mm Indoor LED Display 500mm LED Panel Pic. 01*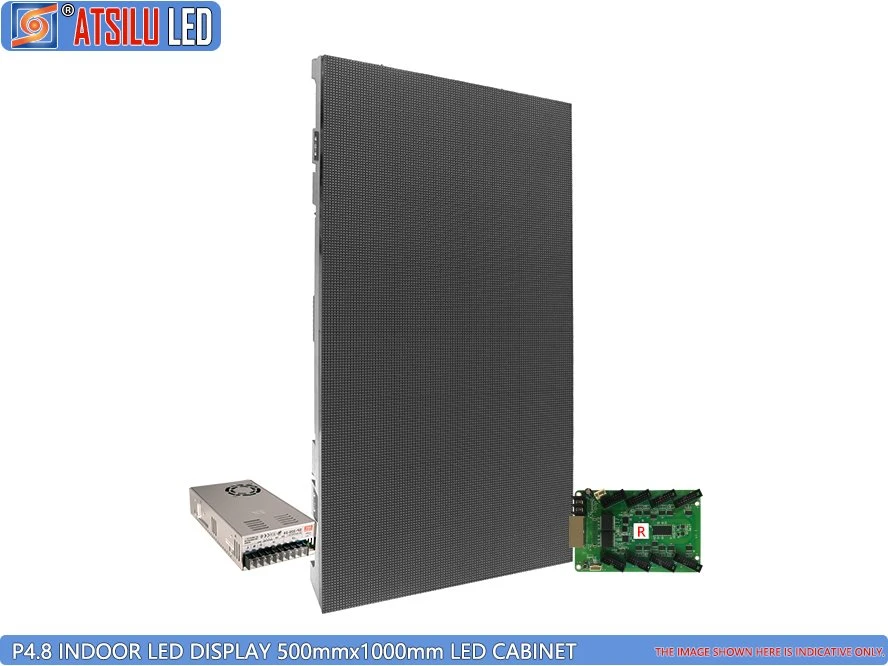 *P4.8mm Indoor LED Display 1000mm LED Cabinet Pic. 02*
P4.8mm Indoor LED Display Description
Silu`s P4.8mm indoor LED display is a 4.81mm pixel pitch LED display that's designed for the rental and staging market. It brings superior image quality, true cross- rentability features, peace of mind and quick and fast install to suit any of indoor live events.
The P4.8mm indoor LED display offers stunning image quality in both dimmed and high-brightness mode, it accurately reproduces the colours you have in mind, in all lighting conditions without tearing or stutter.
High-definition visual effect
Seamless assembling
High stable aluminium alloy cabinet
Better heat dissipation
Fan-free design
Energy saving
160 wide view angle
Perfect panel size option: 500*500, 500*1000mm
Slim light-weight aluminium structure LED cabinet
±15° angle adjustable between cabinet, enable to make curved LED screen
At least 2 strong fast locks at one edge of the cabinet, more accurate and easy to handle
Approved by RoHS certification, Lead-free, environmental design
Black SMD LED and High Refresh IC
Top selected black SMD LED lamps can make the P4.8mm LED display to keep a longer lifetime, and MBI5153 or Chipone2153 high refresh series driver IC solution (refresh rate is more than 3840Hz) with anti-ghost function help improve the image quality, no scan lines even in a TV camera.
Seamless Assembly and Lightweight
With CNC processing, the range of tolerance is controlled within 0.1mm that guarantees the seamless assembly and perfect performance is presented. The lightweight die-casting aluminium LED panel makes it easy to transport and it`s labour-saving, high efficiency and cost-effective.
Curve Installation Compatible and Creative Stage Video Wall
The concave and convex radian design optional to create your unique and self-own indoor LED video wall for any stage applications.
Widely Application Occasions
This P4.8mm Indoor LED display mainly used for performance, meetings, exhibitions, weddings, foundations, started opening, promotion and other activities, the stage background structures, lighting and sound equipment and special effects equipment rental places.
P4.8mm Indoor LED Display Specification
P4.8mm Indoor LED Display

Pixel Pitch

4.81mm

LED Brand

Nationstar or Cree* or Nichia*

Pixel Configuration

1R1G1B

Pixel Density

43,264 Pixels/m²

LED Module

250mm x 250mm (9.843" x 9.843")

52 pixels x 52 pixels

LED Cabinet

500mmx500mm (19.7"x19.7") or 500mmx1000mm (19.7"x39.4")

(104 pixels x 104 pixels or 104 pixels x 208 pixels)

Material: Aluminum

Steel: /

Aluminum: < 8Kg or 15Kg (< 17.6 Lbs or 33 Lbs )

Working Voltage

AC220V±10%; AC110V±10%

Power Consumption

Average 384W/m² / Max 800W/m²

Maximum Brightness

> 1,100 cd/m²

Refresh Frequency

> 3840Hz/S

Change Frame Frequency

60Hz~ >60Hz

Drive Mode

1/16 Scanning

Total Colors

281 Trillion Colors

Grade Level

RGB 65536 Grade

Best Viewing Distance

4m~>100m (12ft~>600ft)

Best Viewing Angle

Horizontally 160° / Vertically 140°

Screen Lifetime

> 100,000 hours

Protection Level

Front IP43

Control System ¹

Simple LED Video Control System or Advanced LED Video Processor

Ambient Temperature

-40°C ~ 60°C (-30°F ~ 150°F)

Relative Humidity

10%~90%

Input Signal

RF S-Video RGB RGBHV YUVYC etc.

Brightness Adjustment

256 levels of each colour (RGB) can be adjusted manually and 8 levels of each colour can be adjusted automatically. Optional control system: 256 levels of each colour can be adjusted 100% automatically. (8bit / 16bit / 18bit / 24bit)

Package Material

Wooden Case / Flight Case

Warranty ³

2 Years (3 Years for Cree and Nichia)
WIFI/LAN/WAN/3G/WIMAX control system is available upon request.
The intelligent multifunctional card is available with an automatic brightness sensor to save energy including an outside temperature sensor.
Three years warranty extension program available for Curved LED Video Wall P4.8mm Indoor LED Display.