LED Display
5.0mm pixel pitch LED display, 6,500 nits brightness, 1920Hz+ refresh rate, out of home Advertising LED Video Screen
Outdoor advertising LED screen
Rugged reliability combination design
Outdoor SMD full colour
Rent or fixed installation application
Silu`s P2.5mm Stadium Sport LED Wall Screen LED display brings high-resolution images to indoor applications where image quality matters, ranging from stadiums, museums and other visitor attractions, broadcasting and control rooms, to retail, broadcast and advertising.
By providing stunning image quality with precise colours, the P2.5mm high-definition LED video screen creates exceptional visual experiences that stay constant over time, they allow you to increase your displays` uptime thanks to their smart features and high reliability. All of this P2.5mm sports LED display comes at a minimum total cost of ownership.
Silu`s P2.5mm venues events LED video wall display is well-known for its high performance, excellent product quality and our perfect after-sale service.
P2.5mm Stadium Sport LED Wall Screen LED Module Configuration
Top Code Famous Brand SMD LED Lamps
2-4 Layers 1.6mm Thickness Class-A PCB
CH2153 or MBI5183 High Refresh Performance Driving ICs
Strictly Selected Module Frame and Mask
Integrated Quality Management System


*P2.5mm Stadium Sport LED Wall Screen LED Module Pic. 01*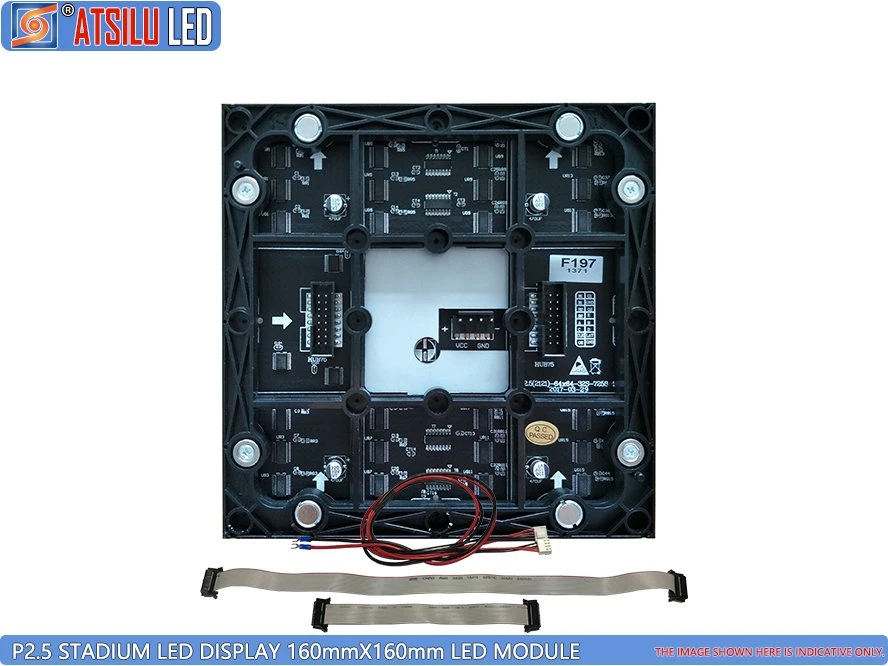 *P2.5mm Stadium Sport LED Wall Screen LED Module Pic. 02*
P2.5mm Stadium Sport LED Wall Screen LED Cabinet Configuration
Die-Casting Aluminum Material Frame
Seamless Splicing Feature
Meanwell Power Supply
Nova or Colorlight Receiving Card* (Option)
Pure Copper Wire Cables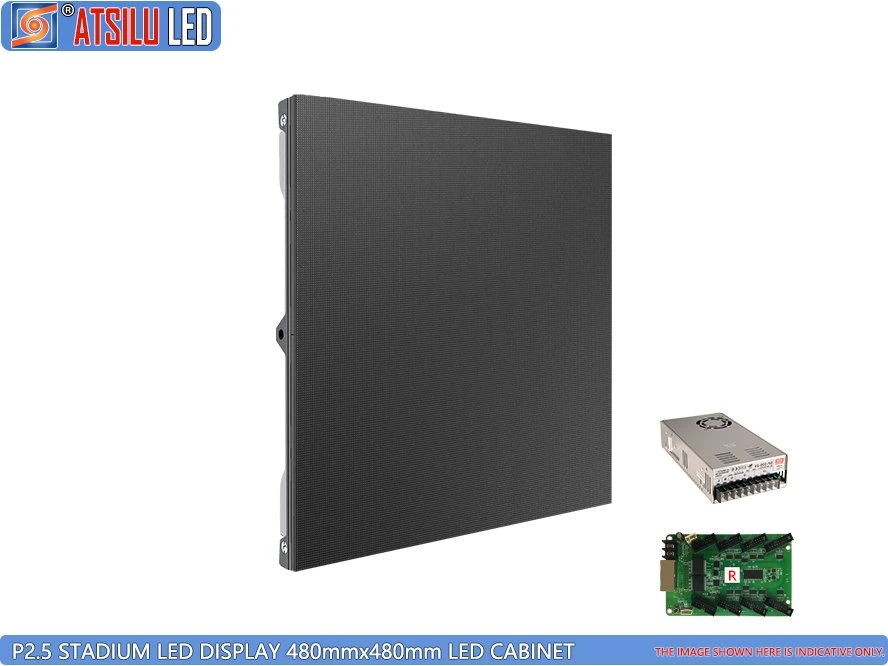 *P2.5mm Stadium Sport LED Wall Screen LED Cabinet Pic. 02*
P2.5mm Stadium Sport LED Wall Screen Description
Silu`s P2.5mm Stadium Sport LED Wall Screen presents a dramatic step forward for indoor LED video wall and broadcasting operators. The LED display features unique black package screen face technology for incredible contrast levels, stunning image quality and extremely wide viewing angles without colour shift.
Superior Visual Effects
Day or night, image quality needs to be excellent all the time. Its excellent image quality is perfect in both dimmed and high/low-brightness mode and it stays constant over time, the P2.5mm Stadium Sport LED Wall Screen guarantees accurate colours at all times. And no image tearing or video hiccups occur as the video is smoothly synchronized.
Low Brightness with High Gray Scale
This model uses high quality LED Lamps and High Return IC, goes with our patented mask and special images arithmetic processing makes a better colour rendering, colour revivification, and more details even in low brightness mode.
High Flatness Seamless Splicing
Fast lock design to make P2.5mm Stadium Sport LED Wall Screen with the features of high flatness, fine aluminium baseboard which is cold processing ensures the best flatness. Flatness tolerance ≤ 0.1 mm.
Peace of Mind Control
You can remotely and proactively manage yourP2.5mm Stadium LED Wall Screen through the cloud-based software. It allows you to smartly create and manage various user profiles. To prevent failure and downtime, you`re notified of imminent issues you can immediately act upon. Its redundant data path guarantees an uninterrupted image all the time, even when the data path is interrupted.
Easy Installation and Maintenance
The P2.5mm Stadium LED Wall Screen can be hung on a beam that`s connected to a ceiling, mounted onto a wall, stacked on a beam that`s placed on the floor or curved. The Silu proprietary mechanics ensure quick and stable installation and swapping of modules. For easy servicing, this display can be accessed both from the front and back*. And if you want to upgrade to higher resolution tiles later, you can reuse the same mechanics.
Optimized Cooling Solution
Drive IC and power supply stick to the aluminium base plate, CNC aluminium base plate is a big heat-sink itself, with the vent at the back also to ensure the best cooling effect.
Nanosecond Level Response Time
LED response shortly in nanosecond level without smearing or double image effect.
Long Product Lifetime
This model enjoys a long product life (100,000 hours, 8-10 years), attributed to its advanced experience in manufacturing and processing management, rich design experience in the drive circuit.
Excellent Grayscale Performance even in Low-brightness of 100 cd/m²
Patented anti-moire Mask Technology
Professional LED video wall uses high-quality black LED lamps to improve contrast and reduce the reflections in the black mode
With patented mask technology can reach a perfect contrast ratio and eliminate the moire effect, it`s an ideal solution for broadcasting or applications under cameras
Up to 3840Hz high refresh rate keeps it high-quality display performance even under the professional camera, no water waves or screen flashing, totally meet the live show requirement
P2.5mm Stadium Sport LED Wall Screen Specification
P2.5mm Stadium HD LED Display

Pixel Pitch

2.5mm

LED Brand

Epistar or Cree* or Nichia*

Pixel Configuration

1R1G1B

Pixel Density

160,000 Pixels/m²

LED Module

160mm x 160mm (6.3" x 6.3")

64 pixels x 64 pixels

LED Cabinet

640mm x 480mm (25.2"x18.9")

(256 pixels x 192 pixels)

Material: Die-casting Aluminum

Steel: < 18Kg (< 39.6 Lbs)

Aluminum: < 11Kg (< 24.2 Lbs)

Working Voltage

AC220V±10%; AC110V±10%

Power Consumption

Average 460W/m² / Max 976W/m²

Maximum Brightness

> 1,100 cd/m²

Refresh Frequency

> 3840Hz/S

Change Frame Frequency

60Hz~ >60Hz

Drive Mode

1/32 Scanning

Total Colors

281 Trillion Colors

Grade Level

RGB 65536 Grade

Best Viewing Distance

2m~>50m (6ft~>150ft)

Best Viewing Angle

Horizontally 140° / Vertically 140°

Screen Lifetime

> 100,000 hours

Protection Level

Front IP43 / Rear IP31

Control System ¹

Simple LED Video Control System or Advanced LED Video Processor

Ambient Temperature

-40°C ~ 60°C (-30°F ~ 150°F)

Relative Humidity

10%~90%

Input Signal

RF S-Video RGB RGBHV YUVYC etc.

Brightness Adjustment

256 levels of each colour (RGB) can be adjusted manually and 8 levels of each colour can be adjusted automatically. Optional control system: 256 levels of each colour can be adjusted 100% automatically. (8bit / 16bit / 18bit / 24bit)

Package Material

Wooden Case / Flight Case

Warranty ³

3 Years (5 Years for Cree and Nichia)
WIFI/LAN/WAN/3G/WIMAX control system is available upon request.
The intelligent multifunctional card is available with an automatic brightness sensor to save energy including an outside temperature sensor.
Three years warranty extension program available for High-Definition P2.5mm Stadium Sport LED Wall Screen.